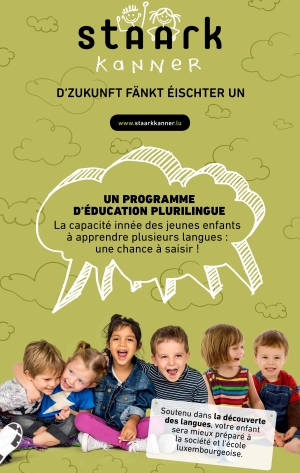 As confirmed by national and international experts, young children are able to learn a number of different languages, intuitively and naturally.
Indeed, studies show that a very young child who is frequently exposed to more than one language easily develops abilities to learn languages in general. Not only will it find it easier to learn several languages but it will also develop its cognitive skills easily (comparing, analysing, prioritising, etc.) – an advantage which will stand it in good stead throughout his/her live.
The State is committed to supporting this fantastic opportunity and to giving all children the best start in life, both in their everyday existence and at school.
With a view to helping very young children to develop their language skills, a multilingual education programme was introduced in October 2017 in crèches, aimed at children aged from 1 to 4 years.
The programme will have a lasting impact on the education system, enabling your child today to understand the languages which he or she will be speaking tomorrow, and thereby meeting a concrete need in our multicultural and multilingual country.
Bringing children into contact with the Luxembourgish and French languages, and attaching value to the languages spoken in the family environment

The multilingual education programme is aimed at children aged from 1 to 4 years, and is offered in all SEAs providing childcare under the CSA scheme. Parental assistants (APs) do not form part of this programme, because the type of care they offer cannot fulfil the conditions required for multilingual education (one person for each language).
All children within this age range are brought into contact with the Luxembourgish and French languages. Value is likewise attached to the languages spoken at home within the children's families.
Daily contact at an early age with the Luxembourgish and French languages is achieved through play, suited to the age and rhythm of the very smallest child. It stimulates the potential of young children, who are naturally curious, without placing any constraints upon them, in an everyday context (mealtimes, walks, etc.), play, nursery rhymes and so forth.
The languages spoken at home, are in any way not neglected. All the children are encouraged to express themselves in their own language, this being an essential condition for the development of their identity and language skills. Moreover, valuing and promoting those languages awakens their curiosity and interest in, the diverse cultures and languages they are daily exposed to.
An advantage for all children
The multilingual education programme is firmly entrenched in, and forms an essential part of, the Government's equal opportunities policy. It benefits all the children involved, regardless of the language that they speak at home.
Exposure from a very early age to the Luxembourgish and French languages will give your child greater opportunities, and more time, to enjoy listening to, and expressing him/herself in, those two languages – and to become familiar with them before starting school.
The Luxembourgish language is an important factor as far as integration is concerned. By familiarising themselves with that language in their early years, children who have little or no contact with Luxembourgish at home will learn it more quickly, and will also acquire a solid basis for literacy in German when they start attending primary school.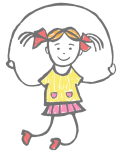 Daily contact with French, in a play environment, gives children who are non-native French speakers access to that language in a more natural and relaxed way . In order to ensure coherence and continuity, initiation into the French language is continued in cycle 1 of primary school, by means of activities in the nature of play. All the children benefit from this, whether it represents their first contact with French or they have already had the chance to encounter that language in a multilingual environment in a crèche.
Thus, being better prepared for our multilingual society and school system, the child is better prepared to succeed!
20 hours' free attendance
In order to ensure equal access to the multilingual education programme, all children aged from 1 to 4 years who are attending a collective childcare facility are eligible, with effect from October 2017, for 20 hours' free attendance per week, over a period of 46 weeks per year.
This enables young children to benefit – irrespective of their parents' income – from the provision of quality education attaching particular importance to the development of language skills.

In parallel with this, the CSA scheme has been revised with a view to adapting it to better cater for the realities of the various family situations and to provide financial help to parents during the toughest years of raising a family.
Qualified and available educational staff
The multilingual education in crèches is provided by suitably qualified and specially trained educational staff.
Initial and vocational training are offered to them in order to enable them to specialise in helping very young children to acquire language skills.

With the aim to give educational staff enough time to establish a relationship of trust with your child, and to enable them to offer their young pupils suitable communication scenarios meeting their needs, the State finances the additional staffing resources needed by SEAs providing care within the CSA scheme. The additional funds are equivalent to approximately 10% of the hours worked by staff prior to the setting-up of the multilingual education programme.
A Scientific Committee to oversee the implementation of the multilingual education programme

A Scientific Committee has been set up to oversee the implementation of the multilingual education programme, which entered into force in October 2017. It is composed of 12 national and international experts from various fields, including early childhood, multilingualism, the development of language skills and multilingual education. By providing reasoned opinions and constructive criticism, they will contribute to the development of educational practice and ensure the relevance and coherence of the efforts made.