Staark Kanner: the best possible care for the greatest chances of success
A significant number of children aged between 0 and 12 years – 58,300 in January 2020 – attend a childcare facility, be it a crèche (nursery), maison relais (childcare centre) or foyer (day-care centre), or are looked after by a parental assistant. These facilities form part of what is termed "non-formal education".
The Luxembourg State wishes to offer all children the same chances when starting out in life, and the same opportunities to succeed, irrespective of their backgrounds and origins. For this reason, childcare facilities are tasked with fulfilling a public service mission, namely to integrate children in the life of their community and to prepare them for entry into Luxembourg society and its schooling system.
Whatever type of facility he or she attends, each child must be able to benefit from the best possible care. In order to coherently sustain children's development, the Government has made the provision of childcare facilities a national priority.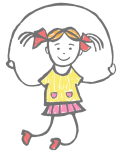 The Staark Kanner initiative is a coherent set of measures designed to benefit children and their families. These include in particular:
State participation in the payment of childcare costs, via the chèque-service accueil (CSA) scheme;
a high-quality educational system in all childcare facilities;
definition, at national level, of the educational objectives for children's development;
a multilingual education programme and 20 hours' free care in nursery facilities for children aged between 1 and 4 years.