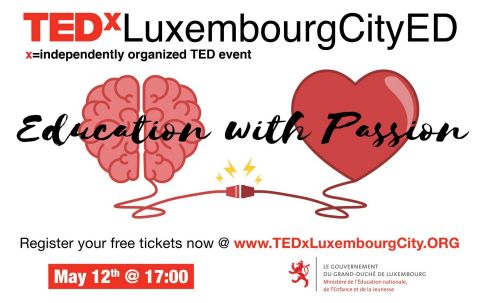 TEDxLuxembourgCity et le ministère de l'Éducation nationale, de l'Enfance et de la Jeunesse organisent un événement consacré à l'éducation, le 12 mai à 17 heures, diffusé en direct dans tout le pays et au-delà.
Fidèles à la formule qui a fait le succès des TED-Events à travers le monde, neuf orateurs interviendront en anglais sous forme de courts exposés percutants, de 18 minutes ou moins, basés sur des idées et des expériences de vie dans le domaine de l'éducation.
La conférence, organisée au Forum Geesseknäppchen dans le respect strict des mesures sanitaires en vigueur, sera retransmise en direct pour le grand public sur la chaîne Youtube du ministère. Inscription, obligatoire et gratuite, sur le site www.TEDxLuxembourgCity.ORG
Au micro de TEDxLuxembourgCityEducation se succéderont, entre autres :
le ministre Claude Meisch ;
les deux gagnants du concours d'idées lancé au mois de mars : Emma Lasar (16 ans) qui présentera ses idées quant à la santé mentale dans les écoles et Giacomo Gambino 14 ans) qui parlera des avantages de la « gamification » dans l'éducation. Une autre adolescente, Emma Schütz (17 ans), présentera un spectacle de magie ;
le directeur de l'École nationale pour adultes – ENAD, Jos Bertemes ;
la directrice de la UP Foundation, Liz Kremer-Rauchs ;
la bijoutière- créatrice Léa Sitbon.
TED est une organisation à but non lucratif qui se consacre à la diffusion d'idées. Les conférences TED couvrent presque tous les domaines, des sciences aux affaires en passant par la globalisation et ont une résonnance mondiale.
«Education with Passion» - 12 May is the date for a major TEDx conference on education
TEDxLuxembourgCity and the Ministry of Education, Children and Youth are organising an event dedicated to education at 5 p.m. on 12 May, available to watch live throughout the Grand Duchy of Luxembourg and beyond.
True to the formula that has made TED-Events successful around the world, nine speakers will pitch short, punchy presentations (in English), lasting no more than 18 minutes each, based on ideas and real-life experience in the field of education.
The conference, organised at the Forum Geesseknäppchen in strict compliance with the health measures currently in force, will be streamed live for the general public to watch on the Ministry's YouTube channel. Registration is compulsory and free of charge, on the website at www.TEDxLuxembourgCity.ORG.
Speakers at the TEDxLuxembourgCityEducation will include:
Minister Claude Meisch;
the two winners of the ideas competition launched in March: Emma Lasar (16 years old) will present her ideas on mental health in schools, and Giacomo Gambino (14 years old) will talk about the advantages of 'gamification' in education. Another teenager, Emma Schütz (17 years old), will present a performance of magic;
Jos Bertemes, director of the Grand Duchy's national school for adults (École nationale pour adultes – ENAD);
Liz Kremer-Rauchs, director of UP Foundation;
Léa Sitbon, founder of Lea Jewelry.
TED is a non-profit organisation devoted to ideas worth spreading. TED conferences cover almost every field imaginable, from science and business to globalisation, and they have worldwide resonance.